Fantastic news! Commercially available, off the shelf trigonal prismatic metric rulers are available in which the centimetre is divided by twelve graduations along one of its six scales. The image shows one such ruler, described as an "Architect Triangular Scale", made of aluminium metal, cool to the touch, aligned with a steel ruler with inches divided in a binary fashion at the top edge and centimetres divided into inches at its other edge. Before acquiring the steel ruler, I was disappointed that it did not divide the inch dozenally instead of decimally or by binary divisions on either of its sides (The ruler is inscribed on the back and front).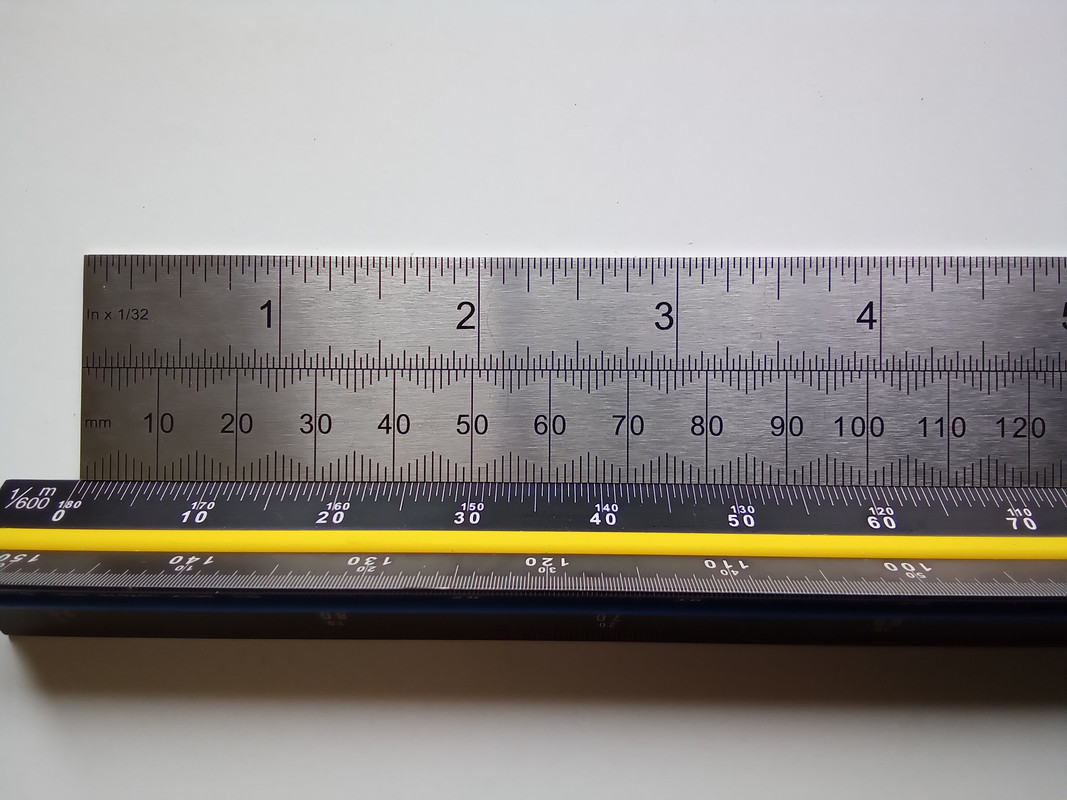 Photograph of trigonal ruler with twelfths of a centimetre aligned under decimal metric millimetres and inches.
Since the centimetre is the basic unit of length of the dozenal Pendulum Metrology that I designed, this ruler enables one to measure dozenally directly in real life by counting the tick marks, without having to do any calculation, and reporting the measurement in dozenal numerical notation. Each twelfth of a centimetre can be represented as
0⁏1
lonz in the Pendulum Metrology. I first saw trigonal prismatic rulers with differently divided versions of the decimal metric system of length on all six scales along their edges in a shop a few years ago. They were cheap but made of plastic. Since the ruler shown in the picture is made of metal, it is accurate to a fine division. Now there is no need to prepare a homemade or do-it-yourself less accurate ruler.
The graduation marks are accented by length differently from how I would have done it. The grouping in fives is annoying. One might consider etching labels at the centimetre marks to make reading it dozenally easier. As it happens, the centimetres are conveniently enumerated in such fashion on the other face of the same edge in this ruler, so one just needs to turn over the ruler to measure the number of centimetres first, and then use the scale with the twelfths of a centimetre for measurement of the finer fractions of a centimetre to be written after the dozenal zot reversed semi-colon fractional point.
This tool makes the Pendulum System a more practical and plausible proposal than other dozenal metrological proposals that are inaccessible and probably against the law.
This is real and not a fantasy. It is not even illegal. Now you can measure and record lengths dozenally. One can be an undercover dozenist with this dozenal instrument disguised as a metric ruler. An employer doesn't even have to know about it.
References/See also: